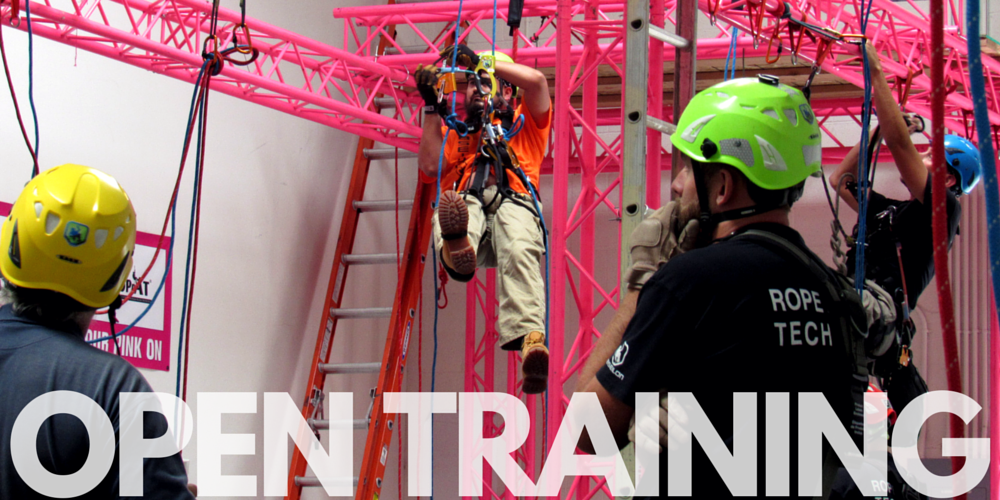 Abseilon USA now offers FREE open training on select Thursdays from 3PM-6PM
WHO CAN PARTICIPATE IN OPEN TRAINING?
Anyone can come to our open training nights. If you are a certified rope access technician, we request that you bring your certification card as well as government issued ID with you. Once you go through our quick orientation, you'll be good to go.
WHAT IF I'M NOT A CERTIFIED ROPE ACCESS TECHNICIAN?
Not a problem. Come on in, anyway. If you have experience on rope, we can evaluate your skills to see if it's safe for you to use the facility. If you don't have any rope access experience, that's okay, too. We'd be happy to share our knowledge, show you the equipment and facility, and answer any questions you might have.
WHAT DOES THE ORIENTATION ENTAIL?
Participants of all experience levels will be required to go through a short orientation with one of our staff members. This will include a check of all of your gear, an ascent and a descent, and a quick overview of  your knowledge and experience with rope access. You will also be required to sign a waiver before using the facility.
WHAT IF I DON'T HAVE MY OWN GEAR?
We rent out gear for a small fee. Supplies are limited and first come first served.
WHAT ELSE DO I NEED TO KNOW?
Our staff loves sharing our passion and knowledge of rope access and how it can affect and advance your career, however open training nights are not rope access courses. If you are interested in starting your rope access education/certification process, please visit our Rope Access Training page.
Our staff reserves the right to limit or refuse facility access to anyone for any reason.
WHAT IF I HAVE MORE QUESTIONS?
You can email us at info@abseilon.com, or call our office at (623) 298-4551 for more information.