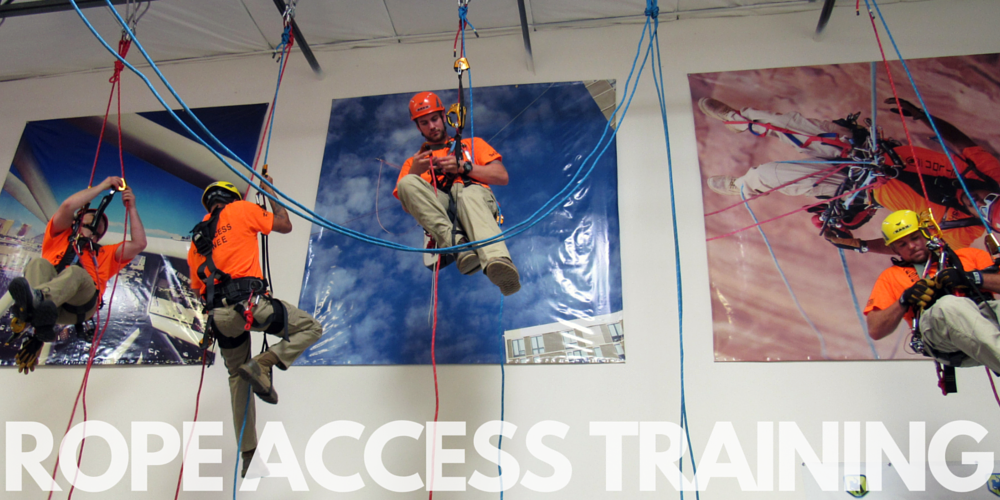 Abseilon USA offers Rope Access Training in accordance with SPRAT Level I, II and III principles and guidelines, up to and including evaluation, either on site or at your location upon request. We have a strong pool of SPRAT Level III Technicians who instruct our Rope Access Training Courses; you can read more about our lead instructor Mike, or about the rest of our team. Abseilon's Rope Access Training Courses are designed around a concept of world class safety and a career-long commitment to excellence. The courses are a combination of theory and practical work and exercises over a four day period, followed by a fifth day of evaluation.
WHAT DO I NEED BEFORE I CAN TAKE THE COURSE?
There are no formal requirements for the entry level Rope Access Training Course (Level I), however we do recommend those who are considering taking the course to visit a physician to receive a physical to ensure they are healthy and able to perform rope access work.
We do not require any student to supply their own equipment to participate in the course, and can supply a full kit set up for the five day duration. We do not allow these kits to leave the premises. The kit supplied during the course will be available for purchase upon course completion, however students are not required to purchase their equipment.
Level II and Level III training require previous experience in and knowledge of rope access, a valid Level I Certification (for Level II candidates), Level II Certification (for Level III candidates), or an approved direct entry application.
WHAT WILL I LEARN IN THE COURSE?
Students who take our Rope Access Training Courses will learn:
SPRAT requirements and safe practices
Equipment use and selection
Level specific knot tying and uses
Level specific rope maneuvers
Level specific rigging
Mechanical advantage
Level specific rescues
Self rescue
OSHA standards
ANSI standards
And more!
WHAT ELSE IS INCLUDED IN THE COURSE?
Our Rope Access Training Courses are all five days long; four, ten hour days of theory and practical education, followed by a fifth day of third party SPRAT Evaluation to take place on site.
Each student receives:
One printed copy each of SPRAT Safe Practices and SPRAT Certification Requirements
SPRAT Certification, card and log book upon successful passing of evaluation
An Abseilon Rope Access Trainee t-shirt
We have a great relationship with several rope access equipment companies, which means that every new class that comes through gets some free swag. It varies from class to class, but we've given students everything from PMI Gloves to ISC buffs.
Immediate qualification for Abseilon's Rope Access Subcontractor list (upon passing grade on evaluation).
WHAT'S THE EVALUATION LIKE?
The evaluation process normally takes between eight and ten hours, and all students are tested simultaneously. The evaluation begins with a 40 question written exam, followed by practical skill set evaluation. After passing the SPRAT evaluation, we will send your documentation to SPRAT for you, and they will mail you a logbook for your hours with your SPRAT Certification card and number.
WHAT HAPPENS IF I DON'T PASS THE EVALUATION?
Don't panic! If a student does not initially pass the evaluation, s/he still has options. If a candidate does not score at least an 80% on the written exam, s/he waits seven days and can re-take the exam with a proctor. If a student exceeds three discrepancies during the practical portion of the evaluation, s/he has three months to re-evaluate.
WHAT IS THE TUITION FOR THE TRAINING COURSE?
Our Rope Access Training Course is $1,595.
WHEN CAN I TAKE THE COURSE?
We have a calendar that outlines our currently scheduled Rope Access Training Courses.
WHAT DO FORMER STUDENTS HAVE TO SAY ABOUT THE COURSE?
Take a look!
I DON'T THINK THIS IS REALLY FOR ME, BUT I HAVE THIS FRIEND…
We have a program for that! Check it out – you could make $100!
WHAT IF I HAVE MORE QUESTIONS?
Not a problem! You can email any questions to info@abseilon.com or call our office at (623) 298-4551. For information about SPRAT, you can visit their website.
HOW CAN I APPLY FOR THE COURSE?
You can fill out the application here.
*Completing an application alone does NOT hold your seat in a course.