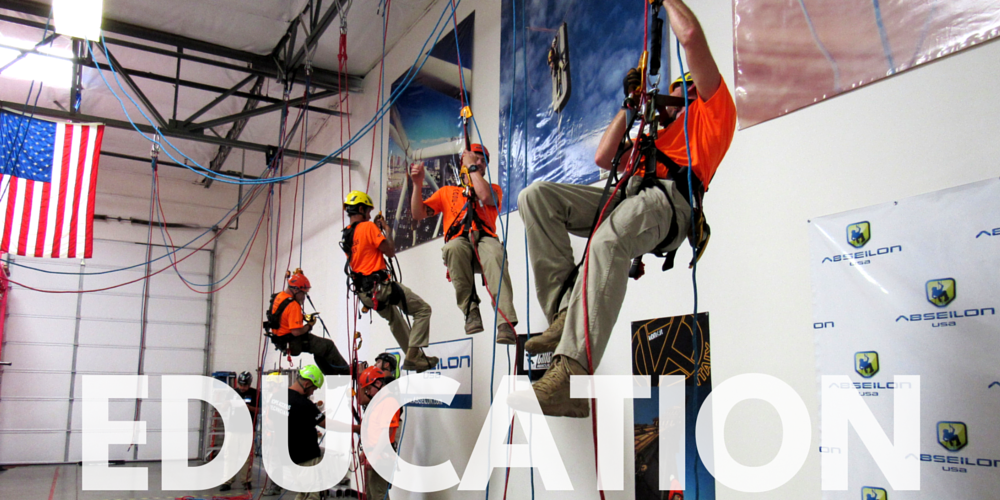 ABSEILON USA provides the highest quality and standard of safety for all types of rope access training and rescue training courses. These courses are tailored and structured to the specific requirements of the client's industry and their personnel. As a training provider independent of equipment manufacturers Abseilon offers the most effective equipment solution and systems, specific to the needs of the client's operations.
SHARING OUR KNOWLEDGE
We enjoy what we do, and are constantly striving to quench our thirst for knowledge, as well as share what we know with those who want to learn. Abseilon USA's certified instructors enjoy sharing their experience and expertise with our clients and students, showing them how they can benefit and make their workplaces safer. We pride ourselves in teaching clients/students by adopting safe systems of work, suitable to their work environment, work tasks and company procedures.
OUR INSTRUCTORS
Rope Access is a far-reaching industry with technicians from all backgrounds, and our instructors are no different. We have instructors with certifications and qualifications in Rope Access, SPRAT, Rope Rescue, Confined Space, Emergency Response, Tower Climbing, Rigger Training, First Aid and more.
*Classes taught in Spanish upon request at no extra charge.
TRAINING LOCATIONS
Abseilon Training most often occurs on site at our Academy located in Phoenix, Arizona. Upon request, we can perform training at your place of work if the setting is more appropriate to the teaching required.
TRAINING COURSES
Rope Access Training (Level I, II and III)
Telecommunications Training (tower climbing)
Construction Site (including PPE inspection & appreciation)
Rescue training
Safety Training (ladder, high line, self rescue, etc)
First Aid/CPR/AED
If you are in search of training not listed above, please feel free to contact us, as we often provide training on a case-by-case basis.
Contact us today for more information on training classes:
(623) 298-4551  |  info@abseilon.com
[contact_form lang=en]
For Lodging (Please click on the link to book your room)

Drury Inn & Suites Happy Valley-Phoenix AZ – about 3 minutes away
Country Inn & Suites By Carlson, Deer Valley – about 8 minutes away

Hostel International Phoenix – about 26 minutes away